Deus Sorting Robots - AGV Warehouse Robots
Automated guided vehicle warehouse robots have been used in plants, factories and warehouses for many years. They have a simple functionality and their task is to transport goods from point A to point B on a given trajectory.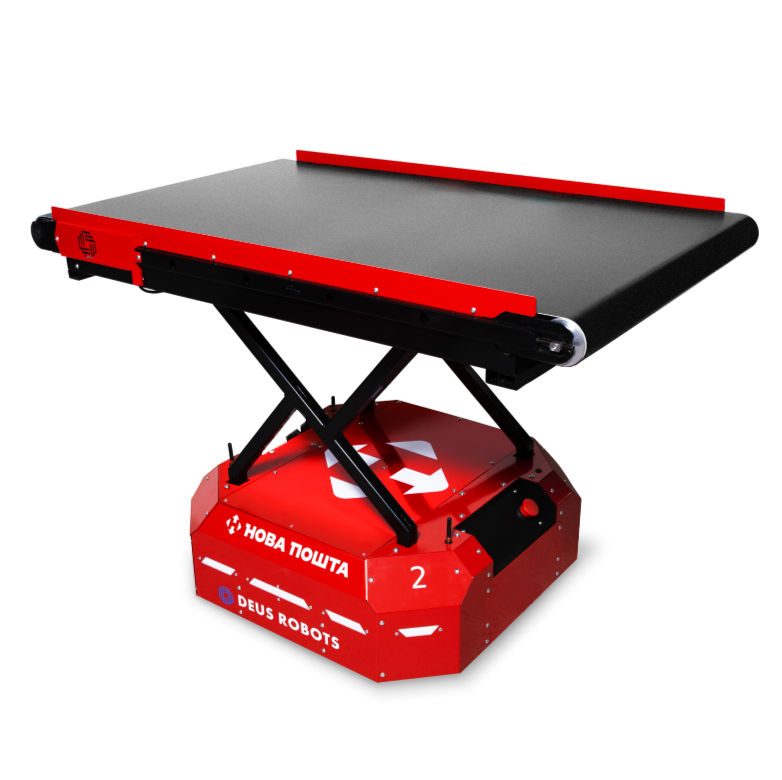 The purpose of this robot agv for warehouse is to move objects and goods weighing up to 30 kg, regardless of configuration. It is essentially a simple robot of the initial automation level.
It has built-in sensors for collision avoidance and detection of movement limiting factors.
Characteristics:
Sorting weight: 10 kg
Dimensions: 72x52x80 mm
Speed: up to 2 m/s with a carrying weight of 40 kg
Max sorted parcels per hour: 100
Charging time: 3 hours
Working time at full load: up to 12 hours
This robot is the best choice for handling loads in the warehouse.
Covering full sorting application scenarios
This robot optimizes conveyor workflows and covers full sorting application scenarios without adding additional infrastructure. Automate loading and unloading and packaging from/to conveyors.

Deus S30 robots are a replacement for manual sorting, helping to comprehensively control and automate processes. Also, can have built-in communication devices to create a network of multiple automated guided vehicles in warehouse.
Warehouse automated guided vehicles can be used to perform a variety of tasks once they are programmed by humans. One task is to sort items based on different characteristics, such as color or size. The objects to be sorted are dropped into an input hopper and enter a conveyor belt that moves them toward a set of sorters.
This scenario describes the process of robot sorting and stacking items onto the conveyor belt in the order they should be placed. When transferring from the full row of product 1 to empty rows of product 2, this operation will receive an instruction from the user to finish robotic sorting for both products 1 and 2 before starting sorting.
In this scenario, you will be using a sorting robot to carry out the fulfillment operation. The sorting robots will be moving around on a conveyor belt and picking up products from one end of the conveyor belt and placing them onto another part of the conveyor belt at the other end.
Floor-based Sorting for Warehouse
Creating unmatchable values for Warehouse Sorting Process Automation
Warehouse robots are a big investment for your business, but their return on investment can be even bigger. A single package sorting robots will pay for itself within [X] months!
Our
basic sorting robots
can be used to automate a wide variety of
automated guided vehicle warehouse
processes:
Unloading trucks
Packaging goods
Securing items for transport
Checking inventory levels and alerting you when they are low
And more!
A robotic warehouse sorting high efficiency comes from its ability to perform repetitive tasks without tiring, which allows it to work for long periods of time without stopping for breaks or meals. This is in contrast with human workers.
The warehouse agv robot operations are flexible. It can handle a variety of tasks, including picking and packing orders, moving inventory, and even cleaning. The warehouse robot agv are capable of performing these tasks without any human intervention or oversight.
Respond to changing market conditions and make necessary changes to their supply chains more quickly.
Increase your throughput by up to [X]% in the first year of deployment
Reduce labor costs by up to [X]% per hour of use
Why Deus Robotics for Warehouse Robotics Automation
Deus Robotics is the world's most trusted warehouse logistics agv robot automation solution. We are experts in warehouse robotics automation, and our mission is to help companies save money, reduce costs, and increase efficiency. Our warehouse robots agv are made to accommodate diverse environments. Whether you have large or small spaces, we can help you optimize them through our innovative solutions.
Start your journey with us Today
We provide our clients with high-quality products and services, which allow them to improve their business processes. Our main goal is to ensure that all our customers have access to the latest technologies in the field of automated guided vehicles, as well as all necessary resources to create reliable solutions that meet their needs.